30-Lb. Striper Caught Fishing
With Bink's Guide Service

Steve Street - Blackburn's Resort And Boat Rental - fishing Norfork Lake since 1995
Darrell Binkley - Bink's Guide Service - fishing Norfork Lake since 1960
Harvey Hall - Hard Times Crappie Guide Service - fishing Norfork Lake since 1955

-------------------------------------------------------------
Norfork Lake Fishing Articles by Steve Street

Prime Time Fishing
As water temperatures change bass patterns change - see this chart for year around guidance.
Spearfishing in Norfork Lake
Add a whole new dimension to your fishing experience!
---
Norfork Lake Fishing Report for 22 March 2017 By Scuba Steve from Blackburns Resort and Boat Rental (click here for comments)
by Scuba Steve Street - Updated about every two weeks, or as fishing conditions change.

Blackburns Resort & Boat Rental

Please note! If fishing conditions don't change, I don't change the report!<
Norfork lake giant crappie.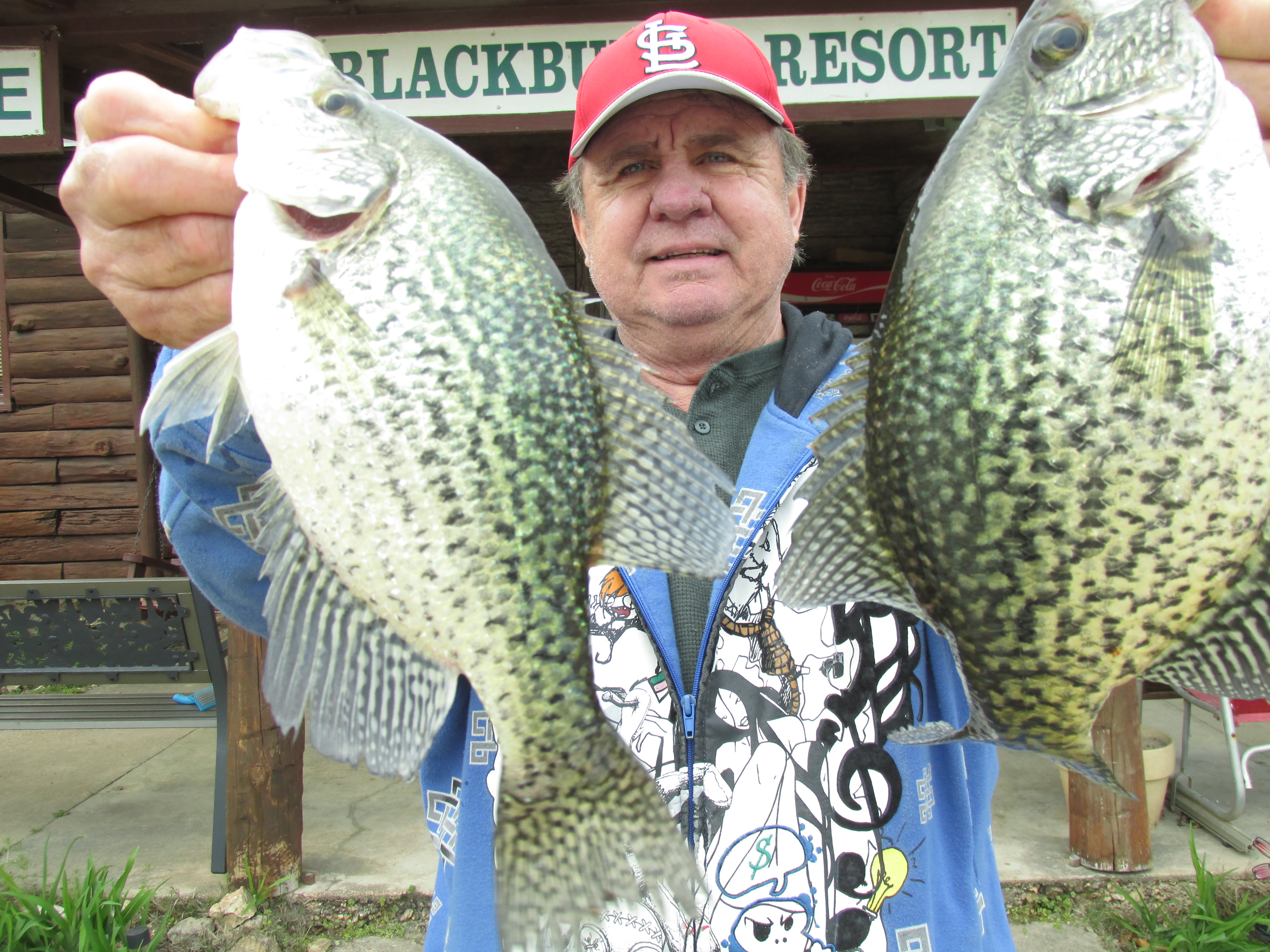 Brian Deardoff with 2 of 20 caught yesterday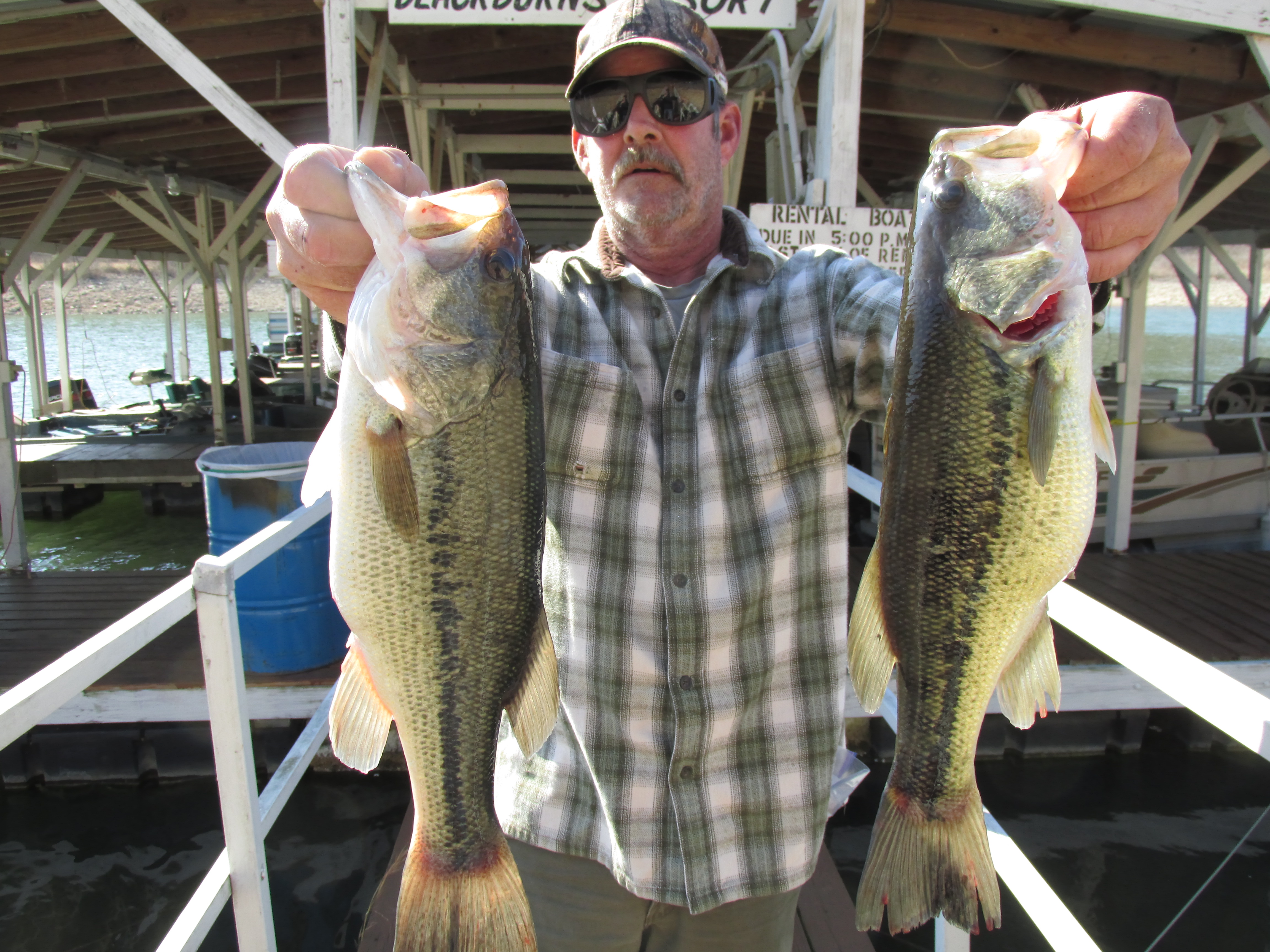 Caught last night.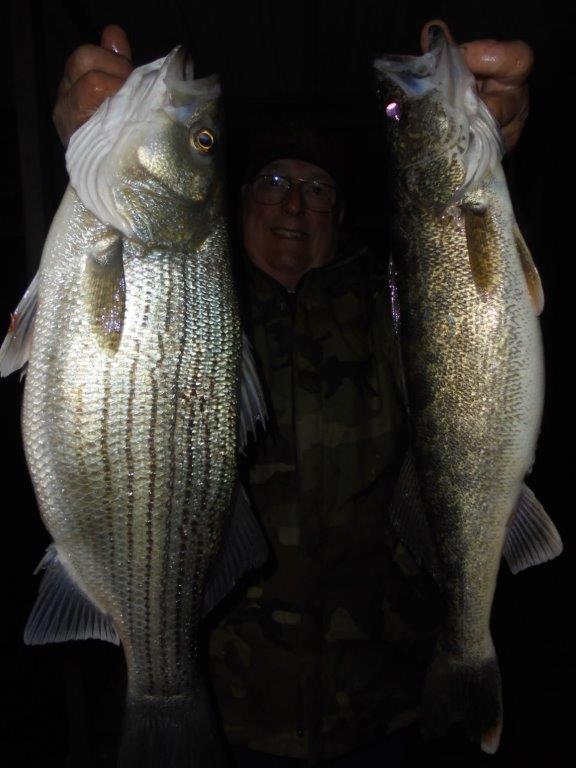 Tom Kelly with some good ones.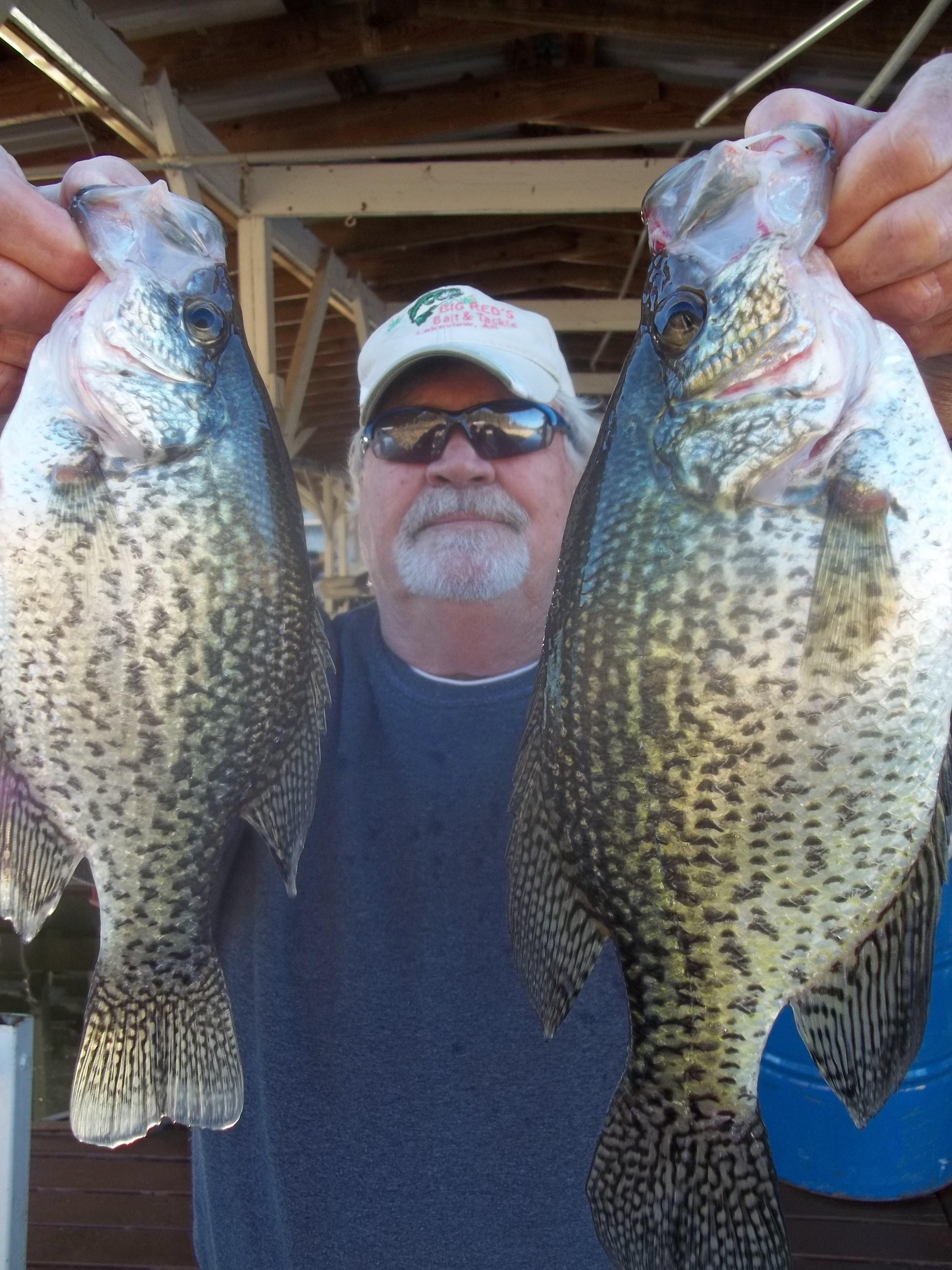 Fishing had slowed dramatically after the cold weather and snow but is picking up now. Surface water temperature is 56 degrees on the main lake and 58 back in the creeks in shallow water. We have had big variations in ambient temperatures and the water has been slow to warm up. We need some nights to have low temperatures near 60 to really get things going. Our normal high is 62. The lake level continues to drop slowly with generation occurring for several hours a day and it is now at 545.27 and it is clearing a bit but is a good color for fishing. There is a lot of pollen in the water on wind blown banks. It is brown indicating juniper which comes out early. Bink reports catching good fish on the bank in the evening and after dark. Walleye before dark on stick baits and soft plastics and stripers and hybrids after dark. Walleye are showing up more and more everyday. Crappie fishing was fair and then the water cooled and they came back to the brush and it got good again. Now very few brush piles are holding fish where they were thick on them last week. It is their transition period between the males moving shallow in the creeks to make a nest and the big females in open water on shad. Many shallow brush piles in the Pigeon Creek area are exposed with the lower than normal water level. Be carefull when going around Robinson Island and Cranfield Island and do not try to cut through. There are a few bass coming up at sunrise but not too many. A few are also surfacing back in the creeks in the evening but are small. The big ones are being caught on south facing main lake channels with steep banks on grubs and crank baits. Some stripers are on the banks at night but most are in open water and hard to find and if you do hard to find feeding. Top water fish are on their way and one of the first places to find them is Panther Creek. Blackburns has many good brush piles but few are holding fish now. They will after the spawn. What we do not need now is a fast change in water level to hurt the spawn. Keep it right where it is for now. When the main lake hits 60 degrees things will really break open. Right now you have to work for the fish but you can catch them if you are persistent. Get back to the basics and use only clear light line and take off all of the hardware. Smallmouth bass fishing is getting good. Blackburns Resort and Boat Rental has one bedroom cabins for $53/day and your first boat stall is free. 1-800-635-0526
For Additional Current Norfork Lake Fishing Conditions
Visit Steve's Fishing & Resort Blog.
Blackburns Resort And Boat Rental is open all year and has a boat just ready for you to rent.
About This Report
My Norfork Lake fishing report is a combination of current fishing action experienced by Harvey Hall from Hard Times Crappie Guide Service, myself, and Darrel Binkley from Bink's Guide Service. Harvey is a very knowledgeable crappie guide on Norfork Lake. Darrell Binkley does not guide for crappie, but he does catch several big ones. By having Harvey and Darrell contribute to my report, I can give you the best Norfork Lake fishing report possible. These two experienced guides, along with myself "Scuba Steve", are among the best fishermen on Norfork Lake. All three of us go fishing nearly every day all year, and how we catch fish is shared in this report.
About Steve Street
From 1977 to 1995 Steve fished Norfork Lake on vacation trips. In 1995 he purchased Blackburn's Resort, and from then on he has fished Norfork almost daily. But Steve's fishing activity is not limited to the surface. He is also an avid scuba diver and spearfisherman. For several months each year Steve spends as much time fishing underwater as he does fishing from the lake surface. Steve does not conduct guided fishing trips, but he does give fishing tips to his resort guests.
About Darrell Binks
Darrell has been a professional guide on Norfork Lake since 1992. He is famous for a spoon lure he developed, the "Bink's Spoon", which is one of the most effective baits for fishing Norfork. Articles about Darrell and his fishing abilities have appeared in many issues of America's best known fishing magazines. Darrell has also appeared on several TV fishing shows featuring Norfork Lake's famous striper fishing.
Phone Darrell at Bink's Guide Service 870-499-7384 - bink@binksguideservice.com
About Harvey Hall
Locals and visiting fishermen alike agree that few people catch as many big crappie as Harvey Hall, who has been a pro guide on Norfork Lake since 1992. If crappie are biting, Harvey will catch them in just about any water condition. In fact Harvey has made such a good reputation for himself as a crappie fisherman he named his business after it - "Hard Times Crappie Guide". Phone Harvey at 870-481-5630.