30-Lb. Striper Caught Fishing
With Bink's Guide Service

Steve Street - Blackburn's Resort And Boat Rental - fishing Norfork Lake since 1995
Darrell Binkley - Bink's Guide Service - fishing Norfork Lake since 1960
Harvey Hall - Hard Times Crappie Guide Service - fishing Norfork Lake since 1955

-------------------------------------------------------------
Norfork Lake Fishing Articles by Steve Street

Prime Time Fishing
As water temperatures change bass patterns change - see this chart for year around guidance.
Spearfishing in Norfork Lake
Add a whole new dimension to your fishing experience!
---
January 22,2017 Norfork Lake Fishing Report By Scuba Steve From Blackburns Resort and Boat Rental For Norfork Lake Arkansas In the Ozark Mountain region
by Scuba Steve Street - Updated about every two weeks, or as fishing conditions change.

Blackburns Resort & Boat Rental

Please note! If fishing conditions don't change, I don't change the report!<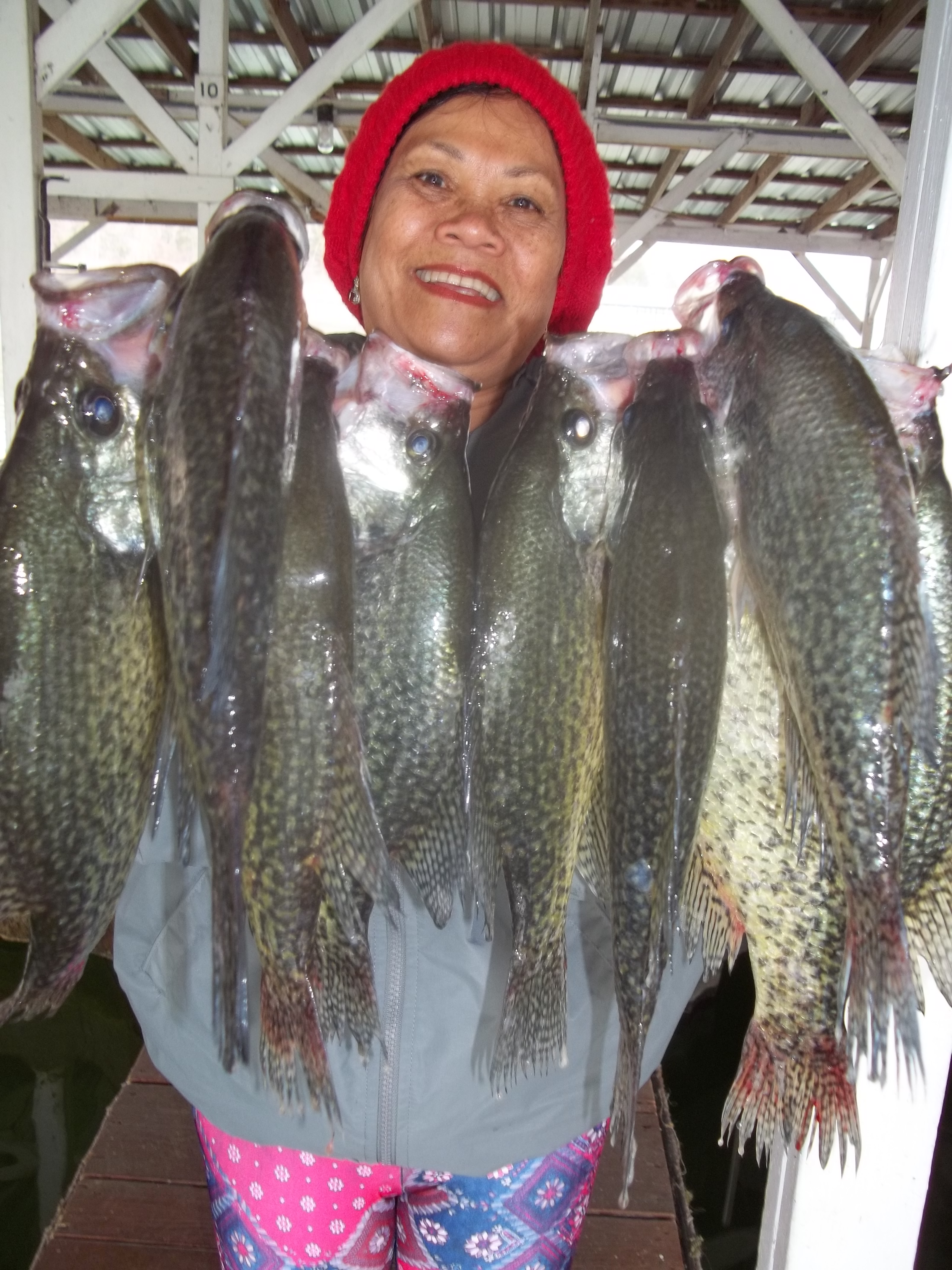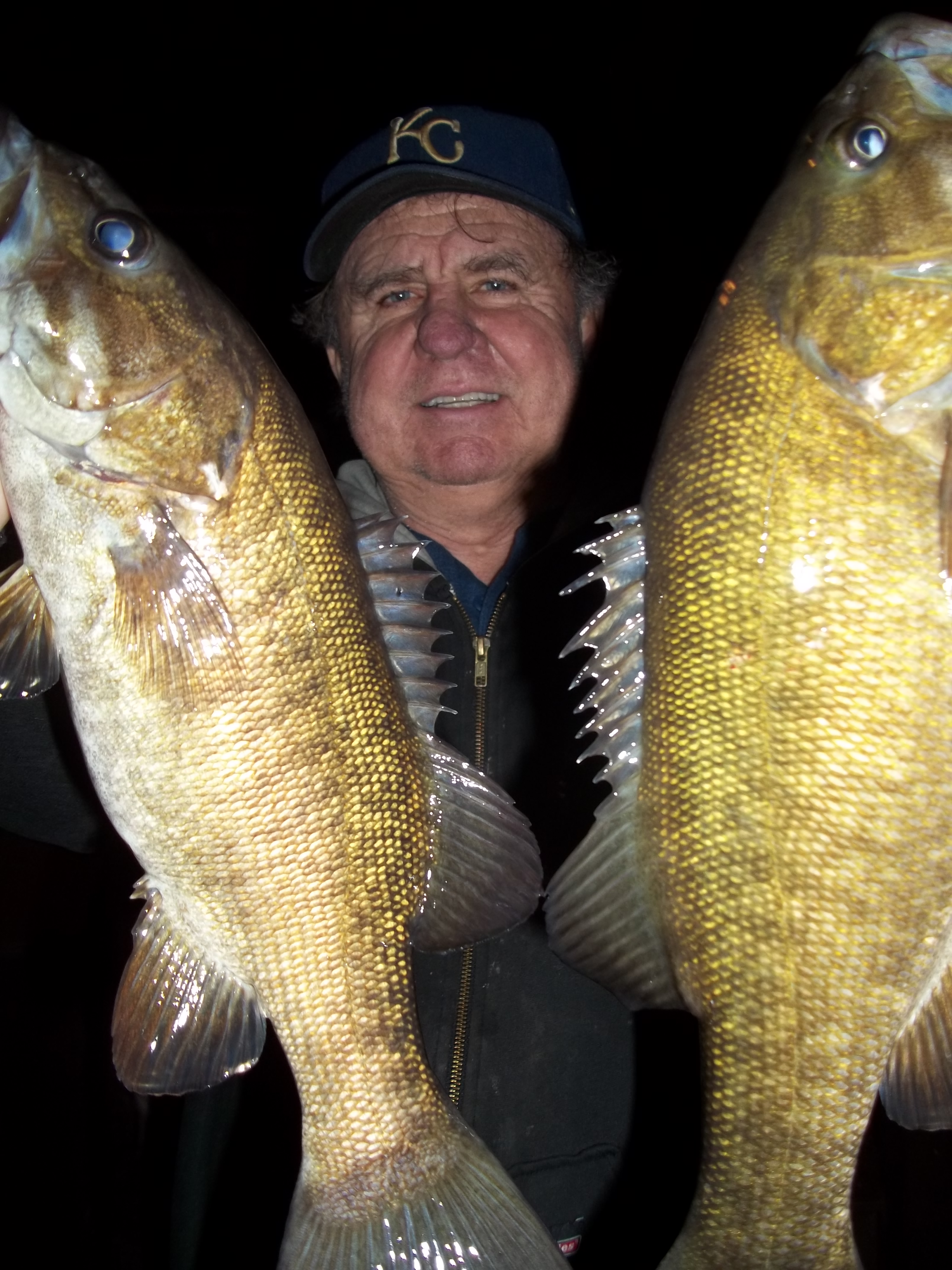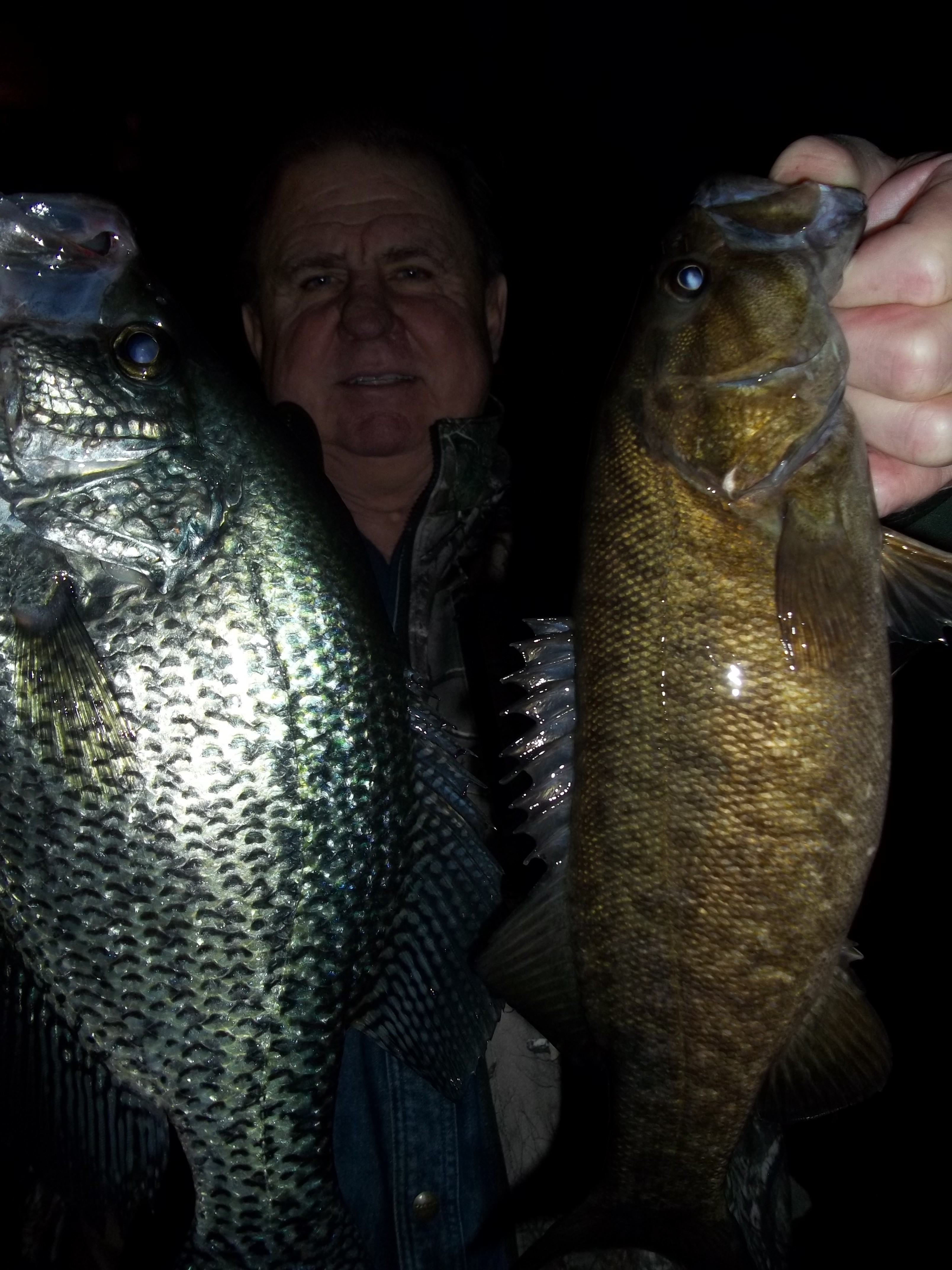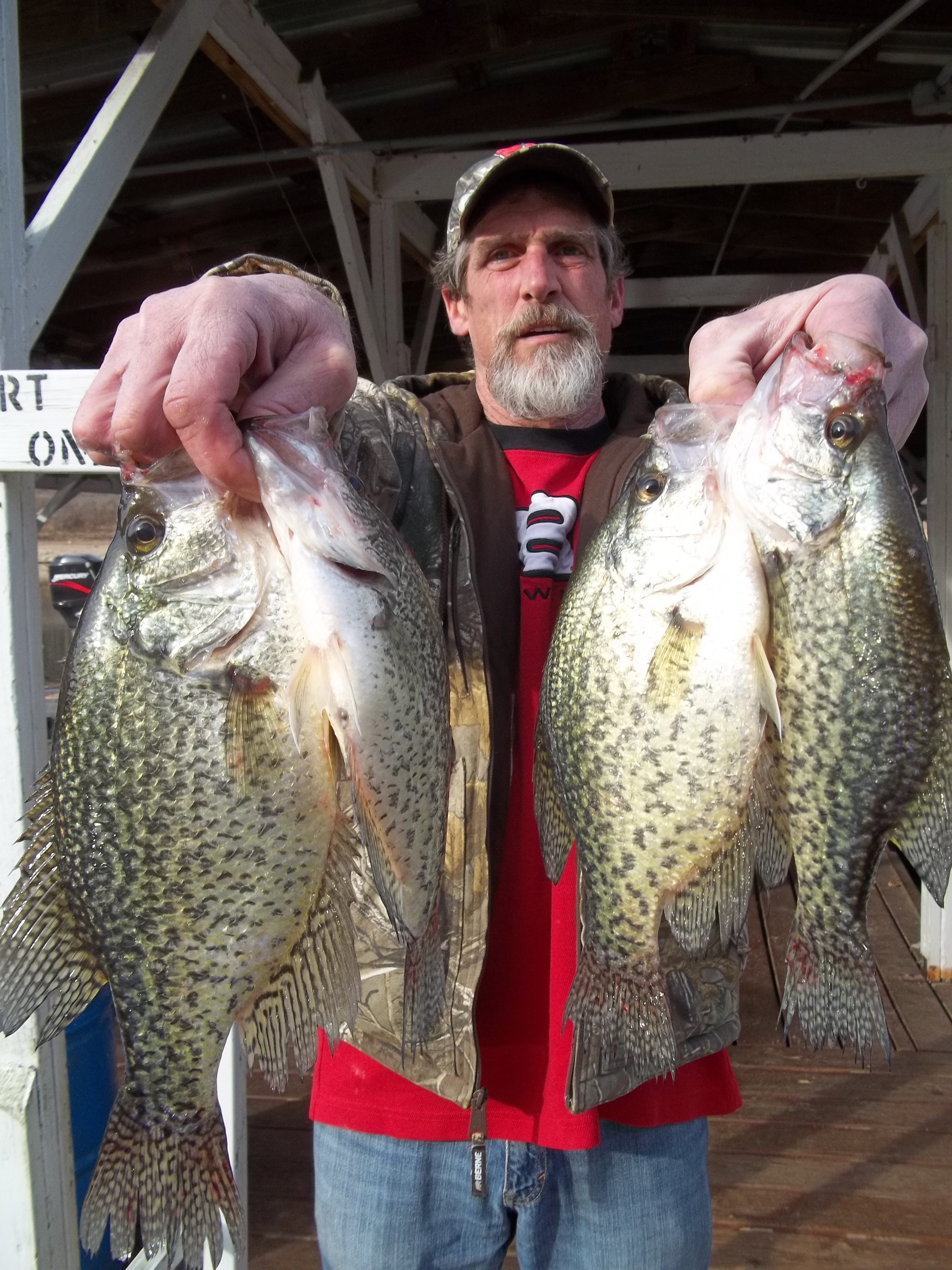 The lake level has been dropping and is below 548. Surface termperature is 48 degrees. I do not know why they are lowering it so much but it does not bother me much. It just gives us more capacity for the spring rains and lets us fish in a smaller bowl. The main lake is stained but clearing a bit and the creeks are stained just right for fishing. For you smallmouth bass fishermen this is the time. i am catching 4-lbers everyday along with giant crappie up to over 17 inches and thick across the back. I like winter fishing. Usually I am nearly the only one out there but the lake was very busy with the nearly 70 degrees yesterday. The smallmouth were off the steep river channel banks in 16-18 feet of water on a grub tipped with a minnow, the crappie were on brush with a minnow on a slip float and the black bass were on brush on main lake points on a 1/2 ounce bink's jigging spoon. Caugh fish steadily all evening until dark. For you open water fishermen there are a lot of shad 50-feet down no matter the water depth at the mouths of the major creeks on the main lake channel. We had some good striper fishermen in yesterday and they had a little trouble getting very many fish. They fish umbrellas and almost always catch fish. I am not much on trolling a half dozen rods with live bait on them until I run out of gas. I am poor and it is hard on motors and I always get tangled up when I catch a fish or get two on at a time when going through a school. The fish population is good on Norfork Lake and they are healthy. Blackburns Resort and Boat Rental has the best prices on both cabins and boats and is open all year. A free boat stall comes with your cabin.and you can launch right here and do not have to go elsewhere to do so. We have it all and at the best price. If you are staying somewhere where you are nearly the only customer you are paying too much. Pet friendly. 1-800-635-0526
For Additional Current Norfork Lake Fishing Conditions
Visit Steve's Fishing & Resort Blog.
Blackburns Resort And Boat Rental is open all year and has a boat just ready for you to rent.
About This Report
My Norfork Lake fishing report is a combination of current fishing action experienced by Harvey Hall from Hard Times Crappie Guide Service, myself, and Darrel Binkley from Bink's Guide Service. Harvey is a very knowledgeable crappie guide on Norfork Lake. Darrell Binkley does not guide for crappie, but he does catch several big ones. By having Harvey and Darrell contribute to my report, I can give you the best Norfork Lake fishing report possible. These two experienced guides, along with myself "Scuba Steve", are among the best fishermen on Norfork Lake. All three of us go fishing nearly every day all year, and how we catch fish is shared in this report.
About Steve Street
From 1977 to 1995 Steve fished Norfork Lake on vacation trips. In 1995 he purchased Blackburn's Resort, and from then on he has fished Norfork almost daily. But Steve's fishing activity is not limited to the surface. He is also an avid scuba diver and spearfisherman. For several months each year Steve spends as much time fishing underwater as he does fishing from the lake surface. Steve does not conduct guided fishing trips, but he does give fishing tips to his resort guests.
About Darrell Binks
Darrell has been a professional guide on Norfork Lake since 1992. He is famous for a spoon lure he developed, the "Bink's Spoon", which is one of the most effective baits for fishing Norfork. Articles about Darrell and his fishing abilities have appeared in many issues of America's best known fishing magazines. Darrell has also appeared on several TV fishing shows featuring Norfork Lake's famous striper fishing.
Phone Darrell at Bink's Guide Service 870-499-7384 - bink@binksguideservice.com
About Harvey Hall
Locals and visiting fishermen alike agree that few people catch as many big crappie as Harvey Hall, who has been a pro guide on Norfork Lake since 1992. If crappie are biting, Harvey will catch them in just about any water condition. In fact Harvey has made such a good reputation for himself as a crappie fisherman he named his business after it - "Hard Times Crappie Guide". Phone Harvey at 870-481-5630.